Note - there is flashing lighting in this production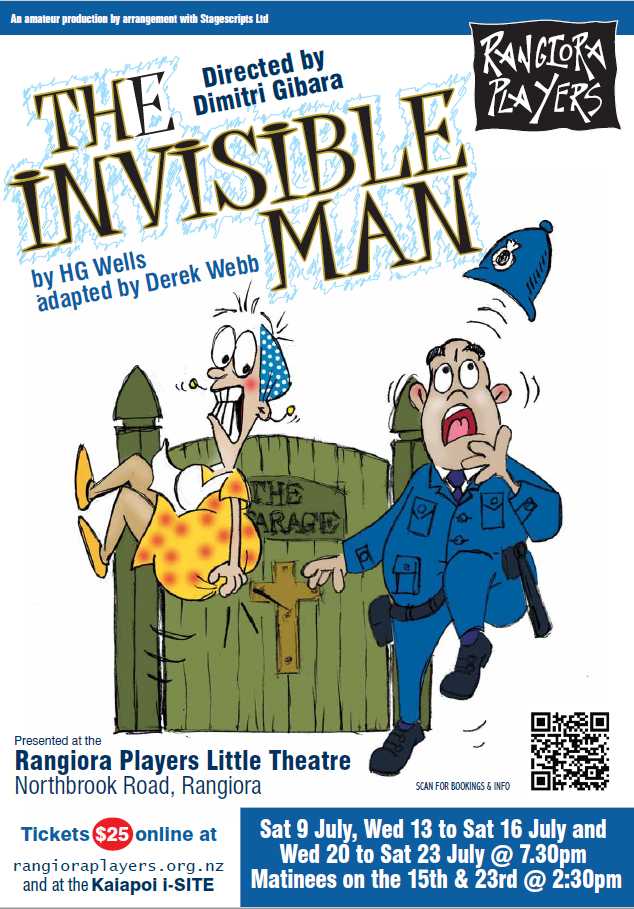 The thought of invisibility – and the advantages it could bring to someone – is one which has captured the imagination of millions since the classic HG Wells' story was first published in 1897. "The Invisible Man" has been adapted many times for the screen, but rarely for the stage. This is a brand new, fast-moving, and very funny adaptation.
The thought of invisibility also gives rise to plenty of visual gags with characters – and audience – being invited to imagine objects that patently aren't visible.
But, while injecting a great deal of humour, the adaptation keeps broadly with the plot of the original book and retains some key points that Wells makes; the novel highlights some of the economic and political problems that preoccupied him throughout his career. And many are still relevant and resonate today. For example, the Invisible Man uses his invisibility to steal money from banks – from the 'faceless' bankers who themselves move money invisibly. In our age of offshore banking and all sorts of money-laundering schemes, we hardly need to be reminded that the circulation of money can be mysterious even without a literally invisible man behind it.
All in all, 'The Invisible Man' is. as they say, "A must-see".
Performances

Sat
9th Jul
7:30PM
Wed
13th Jul
7:30PM
Thu
14th Jul
7:30PM
Fri
15th Jul
7:30PM
Sat
16th Jul
2:30PM
Sat
16th Jul
7:30PM
Wed
20th Jul
7:30PM
Thu
21st Jul
7:30PM
Fri
22nd Jul
7:30PM
Sat
23rd Jul
2:30PM
Sat
23rd Jul
7:30PM

2022