SOLD OUT - NO TICKETS AVAILABLE
Presented for a strictly limited season at the Rangiora Players Little Theatre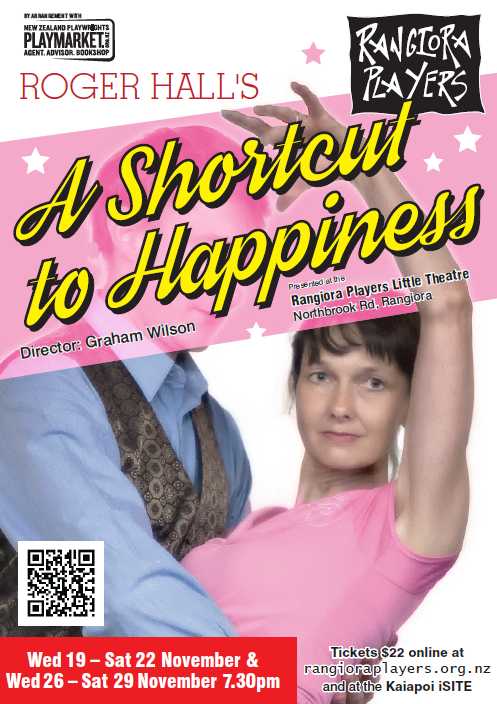 The scene is a disparate (desperate?) group of (mostly) senior people together at a so-called international folk dancing class. These are run in a bland church hall by Natasha, a Russian immigrant, who also cleans houses but is desperate for conversation in order to improve her English. She wants to pass the language exam that will allow her to teach music, which is her greatest love.
Of course, everyone knows that attractive female Russian immigrants are looking for nothing more than an arranged marriage to clear the immigration hurdle, but unbeknownst to the others, Natasha is already married, to a decidedly dodgy Russian bloke.
The other chararters at the folk dancing classes are not without their strangeness either. What romcom would be complete without a cad, and how does love rivalry and recorder lessons fit into this puzzle?
Of course, nothing evers works out the way the protagonists think it will, and of course, the course of true love is always difficult...
"A Shortcut to Happiness" is Roger Hall on top form, great entertainment guaranteed!
Performances

Wed
19th Nov
7:30PM
Thu
20th Nov
7:30PM
Fri
21st Nov
7:30PM
Sat
22nd Nov
7:30PM
Wed
26th Nov
7:30PM
Thu
27th Nov
7:30PM
Fri
28th Nov
7:30PM
Sat
29th Nov
7:30PM

2014
Tickets