Presented for a limited season at the Rangiora Town Hall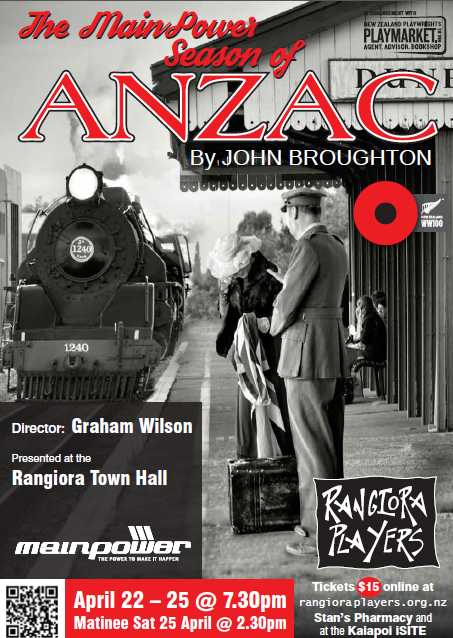 Video Preview
Synopsis
The play is set in Dunedin railway station in December 1917. Sisters (and spinsters) Violet and Gladys are waiting for the train which will bring their brother John home from the war.
While the sisters wait for the train, the station staff act out a number of events the let us see the war through John's eyes, from 1914 where he joins the forces, attends training, travels by boat, ends up being diverted to Egypt, and experiencing the formation of ANZAC forces. He gets shot at Gallipoli, and continues his adventures in France. They are, as John and his brothers at arms observe, "making history".
We see what makes war, and what makes the men of war. We share in the highs, and the lows. We learn of the importance of the letters to and from home, those letters being the internet email of the day.
Performances

Wed
22nd Apr
7:30PM
Thu
23rd Apr
7:30PM
Fri
24th Apr
7:30PM
Sat
25th Apr
2:30PM
Sat
25th Apr
7:30PM

2015
Tickets