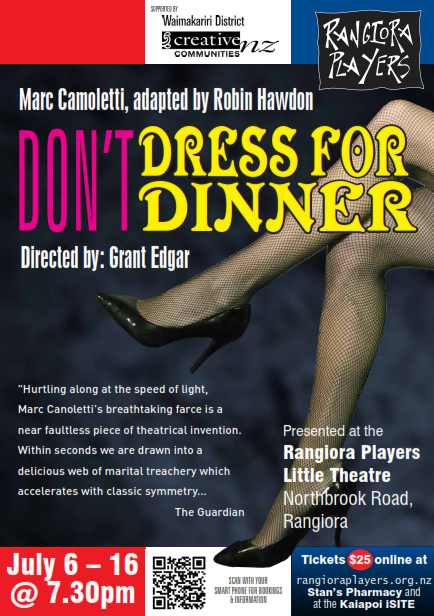 Bernard is planning a romantic weekend with his chic Parisian mistress in his charming converted French farmhouse, whilst his wife, Jacqueline, is away. He has arranged for a cordon bleu cook to prepare gourmet delights, and has invited his best friend, Robert, along too, to provide the alibi.
It's foolproof; what could possibly go wrong? Well.... suppose Robert turns up not realizing quite why he has been invited. Suppose Robert and Jacqueline are secret lovers, and consequently determined that Jacqueline will NOT leave for the weekend. Suppose the cook has to pretend to be the mistress, and the mistress is unable to cook. Suppose everyone's alibi gets confused with everyone else's. An evening of hilarious confusion ensues as Bernard and Robert improvise at breakneck speed.
"The labyrinthine twists and turns are liberally sprinkled with jokes, amiably roared to keep everyone giggling...It gives the whole cast the chance to enjoy themselves going over the top....The performance is a delight." - Daily Telegraph
"I found myself having two of the most rib-tickling hilarious hours I have spent in the theatre in some time. It's amazing what the right combination of smart writing, polished acting and slick direction can do to energize a tired genre...A text book example of how to create the perfect farce." - Chicago Style Magazine
Don't Dress for Dinner was first presented n the West End by Mark Furness Ltd at the Apollo Theatre in London, England, in 1991. It was directed by Peter Farago.
Performances

Wed
6th Jul
7:30PM
Thu
7th Jul
7:30PM
Fri
8th Jul
7:30PM
Sat
9th Jul
7:30PM
Wed
13th Jul
7:30PM
Thu
14th Jul
7:30PM
Fri
15th Jul
7:30PM
Sat
16th Jul
2:30PM

2016