SOLD OUT - NO TICKETS AVAILABLE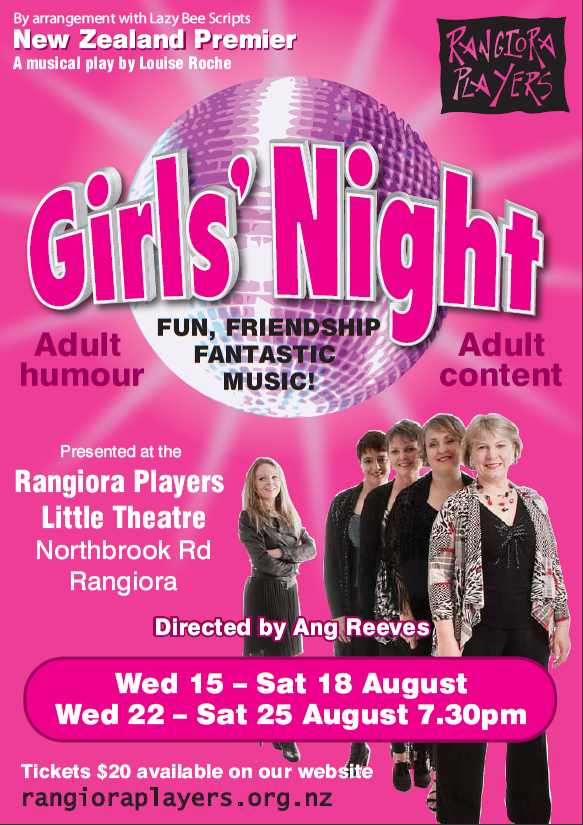 At the Rangiora Players Little Theatre, from 15th August 2012
Tickets on sale July 16th from this website.
Why not join our mailing list to stay informed: Just click here.
Overview
"Desperate Housewives meets Mamma Mia" (Applause Magazine). "As funny and outrageous as Sex & the City!" (The Advocate). "Adult content: May induce Hilarity" (Rangora Players)

A Girls Night this is, for sure. Louise Roche's emotive and witty script cuts straight to the hearts of all those who spent their teens dancing around their handbags.

Sharon, a feisty disco gal who died in a moped accident and now returns, years later, as an angel to oversee the antics of her ageing friends.

And what a bunch of misfits they are; all recognisable caricatures of femininity. Amongst them is Anita, a Prozac dependent nutcase, there is boring Kate, who is tolerated because she does the driving and Lisa who tries to conceal her problems behind one big party.

It soon becomes evident that there is much more to these ladies than first impressions. Amidst the laughs and songs, some profound observations are made about all kinds of issues.

In girls Night, the girls replay their lives in flashbacks, in-between giving stirring renditions of seventies favourites.

Extracted from a review of the UK 2006 tour by Mike Martin in The Stage Reviews link to original review.
New Zealand Premiere
This show is officially embargoed in New Zealand until 31st December, 2020, yes you read that right, 2020. So this may be your one and only opportunity to see "Girls' Night" in New Zealand this decade!