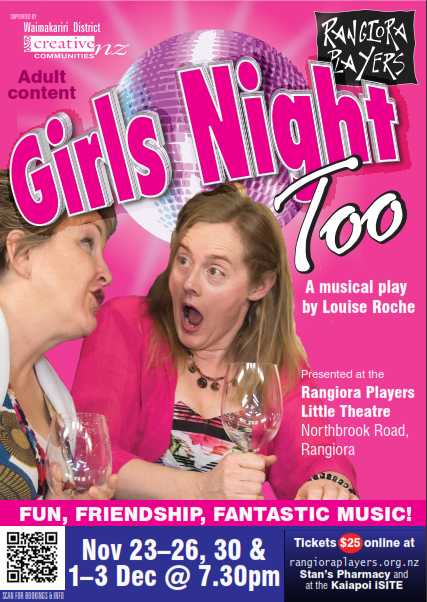 Mr. and Mrs. Jonathan Wright
request the honour of your presence
at the marriage of their granddaughter
Candi-Rose
to Boris Petrov
at 7:30 in the evening
At the Rangiora Players Little Theatre
Rangiora

Listen top a review of the show on Steph's morning show on Compass FM 104.9 Click Here.
Girls Night. That was the night that we joined Anita, Carol, Kate, and Liza, and, of course, the other-world-ly Sharon as we celebrated the engagement of Candi-Rose, Sharon's daughter, to Boris. We sang, we shouted, we cried, and we danced the night away.
It's a year later, and we now join the Girls as we celebrate the wedding of Boris and Candi-Rose.
We all remember Nutty Nita, who has now got her life sorted, is still happily married to Geoff, and is a wedding planner, so she arranged the wedding, mates rates, of course. Lisa, who you'll recall was pregnant, is now running around after her larger family, and is still married to Richard, and she still keeps him on his toes. Carol is - for the time being, anyway - back with her on-and-off lover Barry, after an interesting run-in in a hospital emergency room. Boys: you really don't want to hear what happened.
It's another guaranteed night of fun as we join the Girls on the next adventure of their lives.
Performances

Wed
23rd Nov
7:30PM
Thu
24th Nov
7:30PM
Fri
25th Nov
7:30PM
Sat
26th Nov
7:30PM
Wed
30th Nov
7:30PM
Thu
1st Dec
7:30PM
Fri
2nd Dec
7:30PM
Sat
3rd Dec
7:30PM

2016