SOLD OUT - NO TICKETS AVAILABLE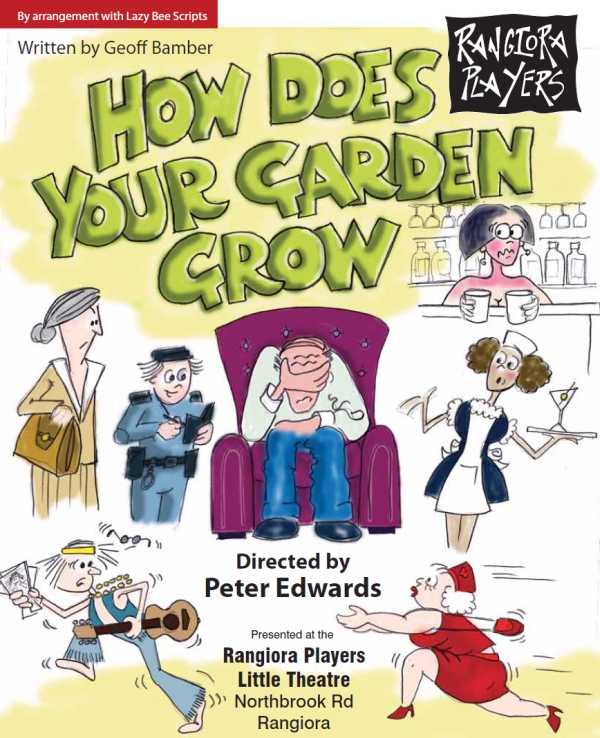 Synopsis
This play is nothing about gardens, or how they grow. It's about a weekend at a hotel, a rather out-of-the-way hotel, the reasons for which will become clear.
Peter Fenton, owner of the Lakeview Hotel, is in deep financial trouble. Peter and his wife Jane need to fill the hotel over the weekend in order to keep the bank, in the person of the icy Ruth Bleach, at bay.
The weekend in question coincides with local rock festival providing the Fentons with at least two guests - faded rock legend Nathan Pond and his tie-dyed manager Cassandra Blue. The weekend also coincides with a romantic interlude planned by middle-aged, married, would-be lothario, Roger Crompton. Crompton, a senior bank official, has unwittingly booked a room in the hotel under the 'nom d'amour' Jones for himself and a horrified Ruth Bleach.
An increasingly befuddled Fenton mistakes Crompton for Nathan Pond, he also finds that Cassandra has taken a fancy to him, while Jane reminisces about old boyfriends and having seen Nathan at Glastonbury. Ruth is wholly unimpressed at having to sneak about the hotel in disguise to avoid Fenton, a problem compounded by her disguise matching that of Daphne Flannel, Nathan's stalker.
And then the Police tun up, in the form of WPC Wendy Primm, who is immediately mistaken for a strip-o-gram. And from then on, well, you'll have to come and see the play to find out. Suffice to say that clarity does not improve, oh no.
The Covid-19 Situation

Just in case there is a change in Covid-19 alert levels, or restrictions on gatherings, we consider it prudent that we are able to contact those who have bought tickets quickly if it is necessary to postpone or cancel performances. For this reason, a phone number, and preferably a cellphone number able to receive SMS text messages, is now a mandatory requirement when booking tickets.
Performances

Sat
10th Jul
7:30PM
Wed
14th Jul
7:30PM
Thu
15th Jul
7:30PM
Fri
16th Jul
7:30PM
Sat
17th Jul
2:30PM
Sat
17th Jul
7:30PM
Wed
21st Jul
7:30PM
Thu
22nd Jul
7:30PM
Fri
23rd Jul
7:30PM
Sat
24th Jul
2:30PM
Sat
24th Jul
7:30PM

2021