Review
www.christchurchstar.co.nz - theatre line
This was the second of Roger Hall's plays to burst upon Wellington, New Zealand in the 70s and as with most of his writing took affectionate jibes at middle class mores and manners in our fair land. The play was very sucessful in this country and indeed abroad, being produced in the West End of London and winning an award there.
It continues to enjoy reruns in both professional and amateur theatres up and down the country and was performed last year by the Court Theatre for the second time. This year Court performed Spreading Out which followed up the characters 30 years on in their lives, when Reg and Isobel visit Elizabeth and Colin at their Central Otago vineyard, and yes, Jane did become a doctor.
A near full house greeted Rangiora's production, and the performance thoroughly engaged the audience. The actors attacked the piece strongly and created some memorable characters. The set adequately revived memories of the silly 70s and served to remind us somewhat of the ravages of monetary inflation.
Dimitri Gibara directed with his customary gusto, and the efficient front-of-house crew made the evening enjoyable.
-Barry Grant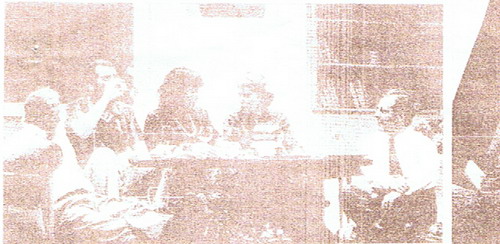 Apologies for image quality - this is a scan of a faded fax