Presented for a strictly limited season at the Rangiora Players Little Theatre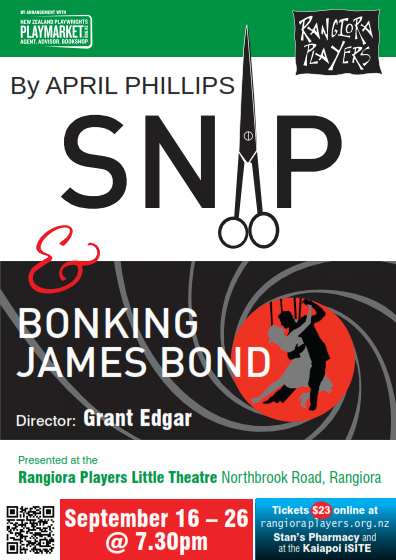 Outrageous comedy from April Phillips
This is a pair of one-act comedies that are presented as a pair for a good night of entertainment.
Snip is a tale about Frank and Jenny, a married couple, with a difference of opinion about sex. Frank is desperate for some, but Jenny has had enough of carrying the responsibility for contraception. The solution, to Jenny, at least, is obvious: it's time Frank got.... The Snip! Frank is somewhat less keen, and needs some persuasion, from no less a figure than the godfather. Will Frank do the honourable thing?
Bonking James Bond is about another married couple, Betty the desperate, and Jeffrey of the mid-life crisis. And between them, they manage to end up in a confusion of relationships. But Betty is looking not for a mere man, no, Betty wants no less a man than James, James Bond. But somehow Jeffrey cant help but get embroiled in Betty's carryings on...
April Phillips authored STiFF which the players presented in 2013, and that was our fastest selling Players production this century! We expect that this production will sell quickly too, so prompt purchase of tickets is highly recommended.
Performances

Wed
16th Sep
7:30PM
Thu
17th Sep
7:30PM
Fri
18th Sep
7:30PM
Sat
19th Sep
7:30PM
Wed
23rd Sep
7:30PM
Thu
24th Sep
7:30PM
Fri
25th Sep
7:30PM
Sat
26th Sep
7:30PM

2015